Tripawds is a user-supported community. Thank you for your support!
We made it to year number 3!
I remember sitting at the UW Madison Vet Teaching Hospital on March 17th 2010. It was a beautiful spring day. I had brought my lawn chair along for the wait and ended up taking a nap outside in the sun while they amputated Josie's leg, shoulder blade and lymph node. Wow…it seems like only yesterday.
But here we are….3 years later…and my "little" lucky charm is still hopping through the clover! Hoppy St. Patrick's Day to Josie – The Greatest Dane!!!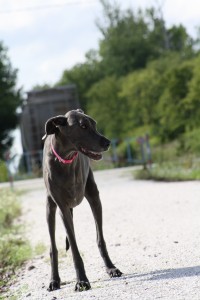 As you can see, I don't blog very often anymore…my last blog was exactly one year ago! I used to use the blog as my way to cope, to find help, advice, get answers, almost a bit of therapy….after a while I found that I have that all right at home. Josie has always been the one to know when things are wrong and she can tell me just about anything with her eyes. I also have an amazing friend I found through this site…Sue Von Rosen Zieske, Queen Nova's Mom. She has been my go-to girl and I look forward to hopefully meeting her and her beautiful girls this summer!
Josie has had two extremely scary episodes this past year where she was actually walking on 2 legs….yes, TWO legs!!! I thought it was the end….time to say goodbye. Instead, she has been diagnosed with arthritis in her hips and pelvis. She also has old torn ACLs in both her knees. Her amazing doctor started her on Adequin injections twice a week along with Rimadyl and Gabepentin pills. She is down to getting her Adequin once a month and that along with the pills have her hopping and running like no ones business! Dont get me wrong, she still has bad days when she overdoes it, she will be real slow to get up and will favor her rear left leg. BUT….she is happy and hoppy 99% of the time! She still loves to get outside in the cold Wisconsin weather, eat snow and run with her two sisters! Yes, we adopted another Dane, Orra Ireland, on New Years Day this year. She is a 10 month old Merle and is a wonderful addition to our family. I think she brought some spunk back in Josie's life. Miss Gully is almost 6 now, so young Orra is keeping them both on their toes!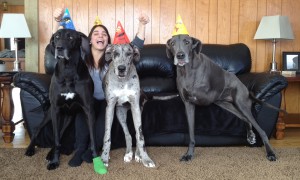 On the wonderful day of February 24th Josie celebrated her 9th birthday in style…cake, ice cream and presents and best of all, her human sister Brittany came home for the day!
Tomorrow (March 17th 2013) is officially her 3rd Tripawd Ampuversary…I ordered  her yet another cake and we will celebrate once again. I hope there are many more cakes in our future!!!!! (I had to explain what an "Ampuversary" was to the lady in the cake department at our local grocery store, she thought the cake was for a little girl that couldn't pronounce Anniversary…)
Hoppy Ampuversary my sweet Josie!